Are you in need of a trustworthy cleaning service for your Airbnb or vacation rental property? Keeping your property clean and tidy is crucial for providing your guests with an enjoyable and comfortable stay. That's why finding the right vacation rentals cleaning service can be challenging. To help you with this task, we have created this guide that covers everything you need to know about selecting the perfect cleaning service for your property. We'll go over the different types of services available, how to find a reputable cleaning company, and what to look for when evaluating potential providers. By the end of this post, you should be well-equipped to make an informed decision and ensure that your guests enjoy their stay in a clean and safe environment.
Benefits of Hiring Professional Vacation Rental Cleaners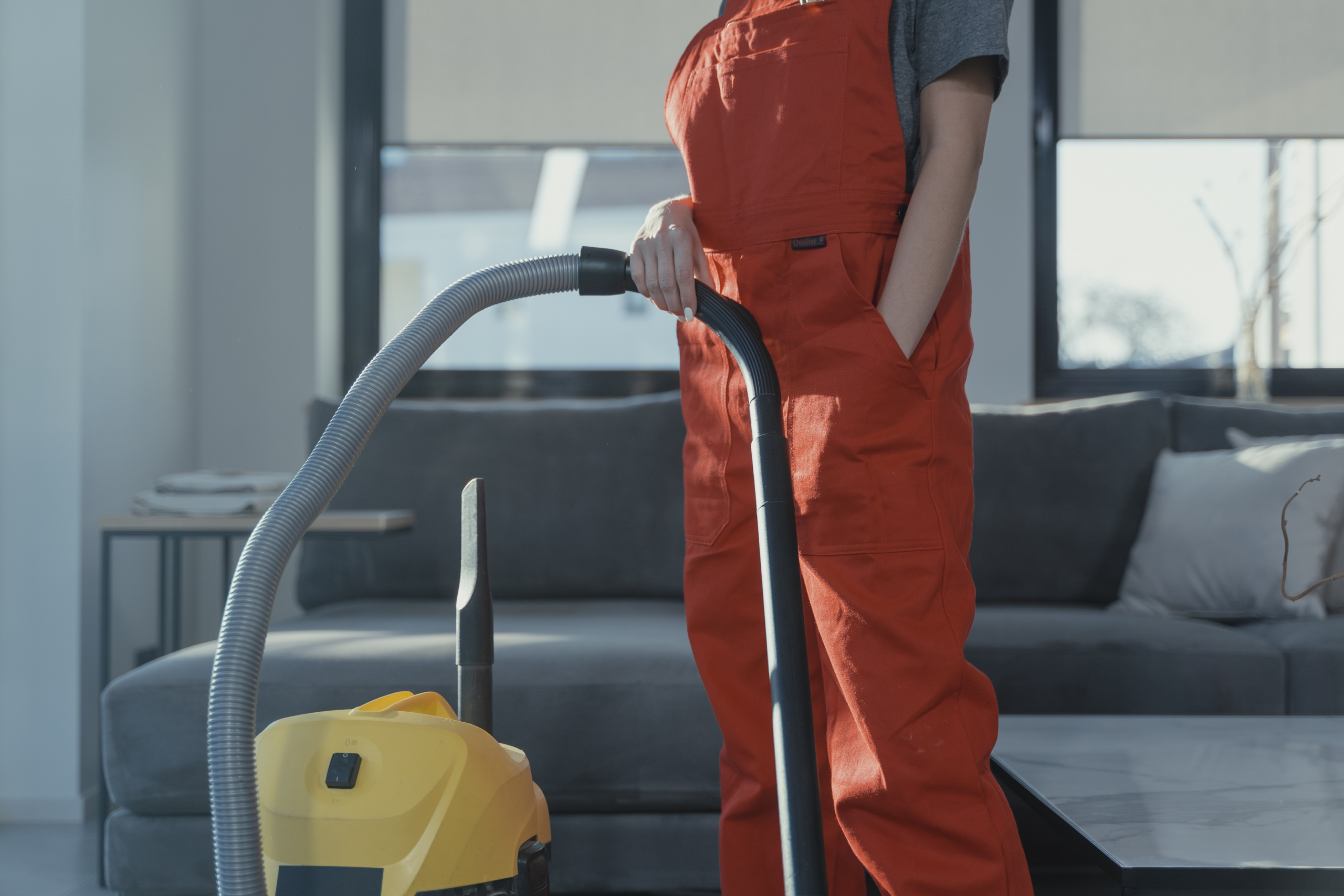 Hiring a professional cleaning service can reduce your stress and ensure your rental always looks its best for guests. Professionals pay attention to details and provide peace of mind knowing that your rental is always in top condition.
1. Professional Clean:
Hiring a cleaning service ensures your rental is clean, sanitized, and disinfected. Professionally trained cleaners use high-grade products to ensure a deep clean every time they visit your space.
2. Convenience:
Having professionals take care of the cleaning for you eliminates the time and hassle of having to manage it yourself.
3. Attention to Detail:
Cleaning companies are trained to pay attention to small details often overlooked when cleaning alone. They also have access to better quality products that will give your rental a thorough and professional cleaning.
4. Consistency:
The same company for each cleaning ensures consistent quality and attention to detail for guests. This also saves you from constantly searching for new cleaners or trying to manage different companies at once.
5. Peace of Mind:
Professional cleaning provides peace of mind, freeing up your time to focus on crucial aspects of your vacation rental business.
6. Enhanced Reviews:
Your vacation rental's success depends on positive guest reviews, which are influenced by a clean and well-maintained space. Stay ahead of the competition with professional cleaning services.
7. Cost Effective:
Professional cleaning is cost-effective since it saves money on supplies, equipment, and cleaning time.
8. Savings:
Hire professional cleaners for their expertise in using the best products and eco-friendly supplies and techniques. Save money and get the best results with their help.
Write down your cleaning tasks expectations and specific requests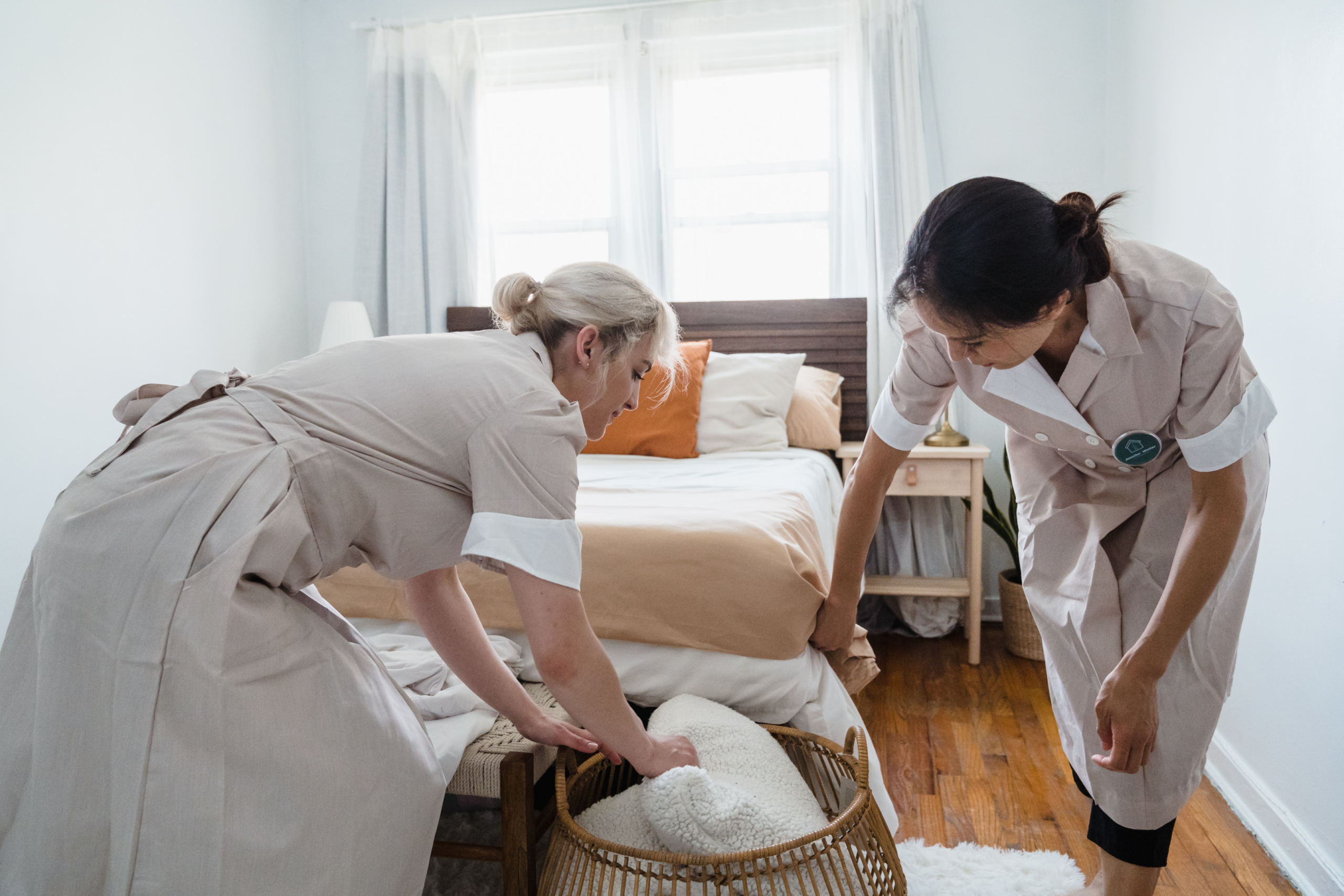 Rental properties must be thoroughly cleaned and sanitized before and after each guest stay. This includes wiping surfaces, vacuuming carpets, washing linens and towels, mopping floors, and cleaning the kitchen sink, among other tasks. Timely completion of these tasks ensures guest comfort.
Create a guest check-out list
Creating a guest check-out list is essential to ensure your Airbnb or Vacation Rental remains clean and free of debris. Here are some tips on creating an effective guest check-out list:
1. Start by listing cleaning tasks you would like to complete before your guests leave. This could include putting the dishes in the dishwasher, taking off bed sheets, or taking out trash bags.
2. Make a detailed yet flexible cleaning checklist for cleaners to use after guests check out. This streamlines the process and makes managing rentals easier.
3. Make sure to update the check-out list regularly based on any changes or additions to the rental property. This will help avoid misunderstandings between you, your guests, and the cleaners.
Expectations for the cleaners'
When hiring a professional cleaner for your Airbnb or vacation rental, it is important to have clear expectations about their duties and responsibilities. Professional cleaners should be expected to clean the property thoroughly, paying close attention to detail and following all safety guidelines. They should also show up on time and adhere to any specific instructions that you provide. Additionally, they should be knowledgeable about the products and techniques used to clean your rental property and understand the rules when it comes to cleaning a rental. Ultimately, professional cleaners should ensure that your Airbnb or vacation rental is in perfect condition for each guest's arrival.
Questions to ask a potential vacation cleaning service company
1. What are your fees?
The fees for a vacation rental cleaning service vary depending on the size and scope of the job. Many professional cleaning companies will offer an estimate based on your specific needs, so it is important to ask about their rates and services prior to hiring. Generally, they will include all cleaning supplies and equipment needed for the job, as well as a detailed breakdown of services provided and the time required to complete the task. Different companies will also have different rates depending on the complexity and size of your rental property, so make sure to ask about any additional charges that may apply. This way, you can be sure you are getting the best value for your money.
2. What is included in your service?
When hiring a professional cleaning service for your vacation rental, it is important to ask what is included in their services. This can help determine if they offer the specific services and products you need for your property. Professional cleaners should be able to provide detailed information about their services so that you know exactly what will be done. Additionally, inquire about any eco-friendly products they use so that you can ensure your rental remains as green and sustainable as possible.
3. What cleaning services do you offer?
A professional cleaning service for vacation rentals offers a variety of services to keep your rental property looking its best. These services include deep cleaning, vacuuming, dusting surfaces and floors, changing sheets, and cleaning bathrooms. Additionally, many companies will offer laundry services and window washing as part of their package. Many also use eco-friendly cleaning products to ensure your rental remains green and sustainable. Depending on the size and complexity of your property, some companies may offer additional services, such as carpet cleaning or outdoor furniture maintenance. Please don't hesitate to ask about any additional services they provide so you can be sure to get the most out of your money.
4. What is your cleaning process?
A professional cleaning service uses a detailed process to clean all vacation rental areas thoroughly. This includes vacuuming carpets, dusting surfaces and floors, and sanitizing bathrooms, kitchens, bedrooms, and other living spaces. They may also clean windows and wipe down furniture as needed.
Reputable companies should have rigid protocols in place to ensure all surfaces are properly sanitized and disinfected using industry-standard cleaning products. They should also employ safety protocols, such as wearing protective gear, using cleaning agents safely, and disposing of all waste properly.
They should use eco-friendly cleaning products to ensure your rental remains as green and sustainable as possible. It is important to inquire about the safety and hygiene measures taken by the professional cleaning service you hire.
Finally, they should keep an accurate log of all cleaning services performed for future reference. This helps you verify that everything is clean and in order before guests arrive.
5. What hours are you available?
A professional cleaning service should be able to provide a range of hours that they are available to clean your rental property. This can include standard daily hours and weekend services if needed. It's important to ask about their availability so that you can plan ahead and make sure that they'll be able to accommodate your specific vacation property cleaning needs. Depending on the complexity of your rental, they may also be able to provide more flexible hours to accommodate all cleaning needs. Also, asking about any additional fees that may apply for after-hours services is important.
What to Look for in an Airbnb and Vacation Rentals Cleaning Services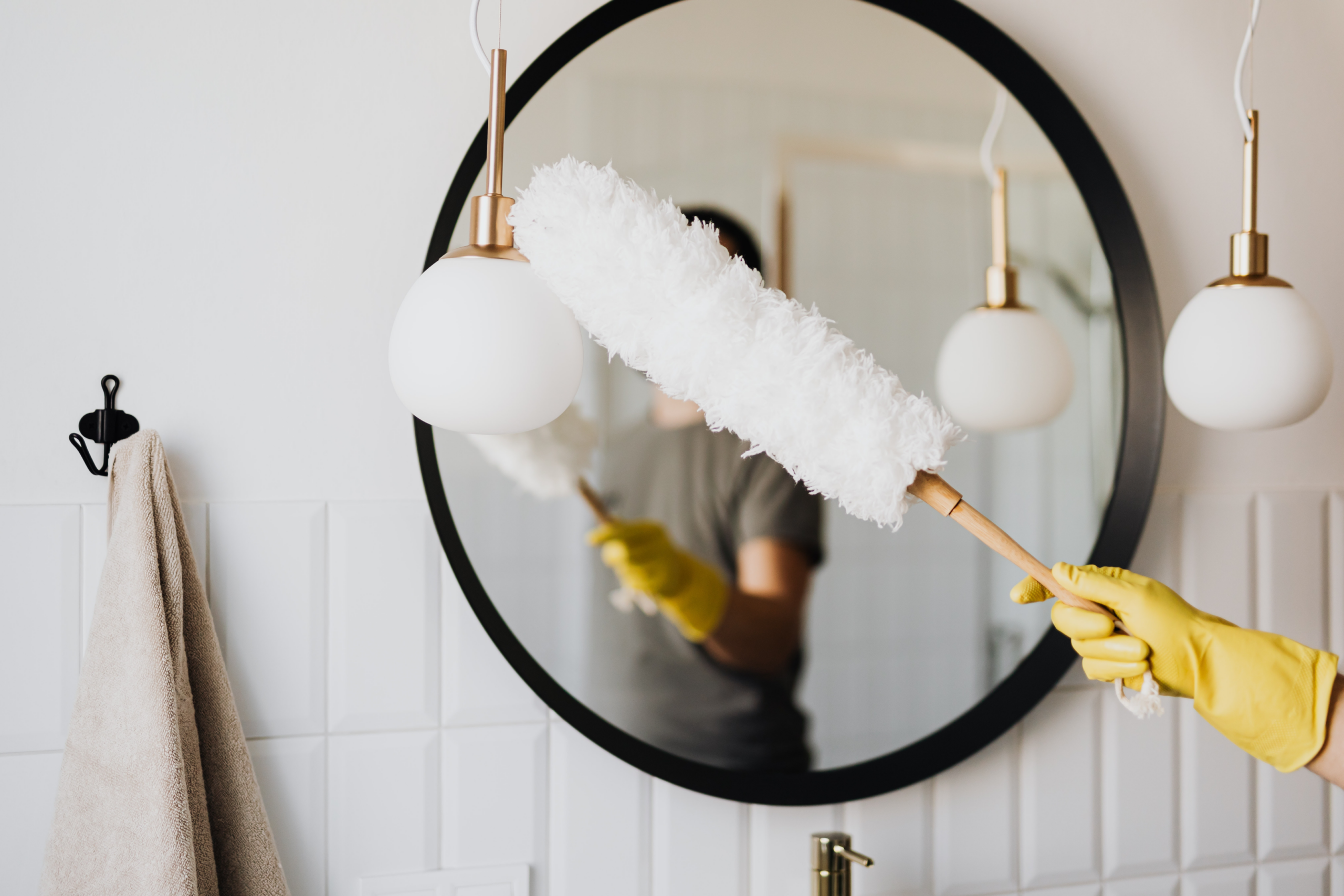 When you decide to hire a professional cleaning service for your Airbnb or Vacation Rental property, it is important that you find a reputable company that you can trust. Start by asking family and friends for referrals, or search online for reputable companies in your area. Once you have identified a few potential providers, it's important to do some research on each company before making a decision. Check out their website, read reviews from past customers, or contact them directly to ask questions about the services they provide. This will help ensure that you end up working with a reliable and experienced cleaning provider.
In selecting a professional cleaning service for your Airbnb or vacation rental, there are a few important things to consider. From the services they provide to their availability and eco-friendly products, these tips will help you find the perfect cleaning service that fits your needs. It's important to inquire about all of these factors when researching potential companies, as they will be essential to maintaining a clean, healthy rental property.
There are both basic services and specialized services that many professional cleaning companies offer so you can make sure your rental remains clean, safe, and comfortable for your guests. Additionally, you will want to inquire your cleaning team about the hours they are available and any additional fees that may apply. Lastly, it's important to ensure that they use eco-friendly products and follow safety protocols to keep your rental property clean and healthy.
Tips for Creating a Safe Environment for Your Guests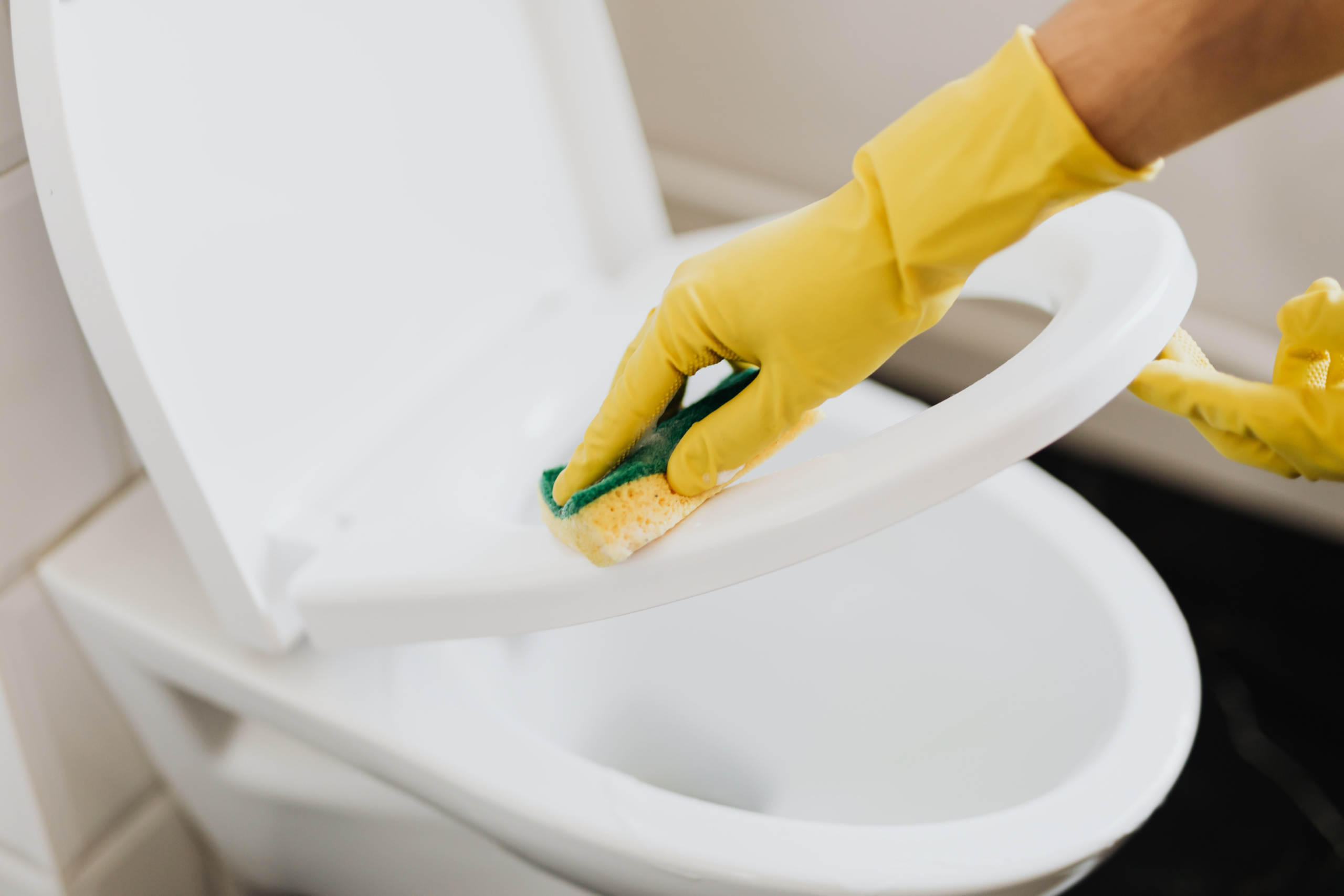 Creating a safe and comfortable environment for your guests is essential for providing them with a great experience. You can do a few things to ensure that your rental property meets the highest standards of safety and comfort.
Include eco-friendly products
Eco-friendly cleaning products are less toxic than traditional cleaners and are made from natural, sustainable ingredients. Choosing a professional cleaning service that uses green cleaning methods is essential to maintain the sustainability of your vacation rental. Making sure to use hypoallergenic and unscented products helps reduce the risk of allergies and other reactions.
Deep clean
Deep cleaning is a process of extensively and thoroughly cleaning all vacation rental areas. This includes vacuuming carpets, dusting surfaces and floors, sanitizing bathrooms and kitchens, wiping down furniture as needed, and cleaning windows. Deep cleaning can help to eliminate dirt, dust, germs, and other allergens that can create an unhealthy environment. By using deep-clean methods once a month, you can help ensure that your guests have a safe and comfortable environment during their stay.
Provide additional services
Providing additional services can be a great way to ensure your vacation rental remains in top condition and clean. These services could include mid-stay cleans during your guests' stay. Professional cleaning services can also provide these additional services to give your rental a thorough, detailed clean that will exceed your guests' expectations.
Turnover linens
Turnover linens are necessary for preparing a vacation rental for new guests. In order to provide the best experience possible, it's important to ensure that all linens in your rental are clean and freshly laundered between stays. Professional cleaning services can do this quickly and efficiently by laundering any sheets, towels, blankets, and other fabric items in your rental. This will help ensure that all the property linens are freshly laundered and free from dirt, stains, germs, and allergens. Additionally, having a professional cleaning service handle this task can save time and effort when preparing the rental for new guests.
Major Booking Platforms for Vacation rental cleaning services
Turno
Available in: Austin, Denver, Honolulu, LA, Miami
Prices vary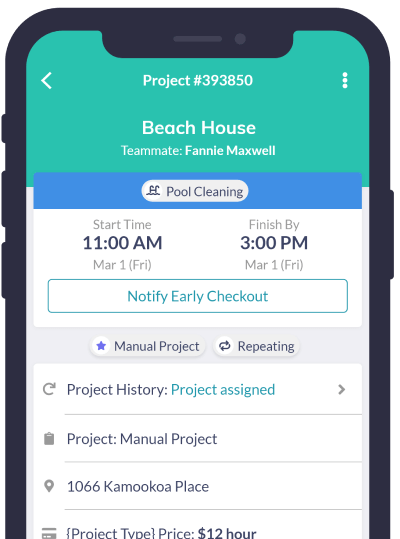 Turno is a cleaning management platform that offers vacation rental property owners an automated solution for scheduling and managing cleaning services. Owners can now easily manage and schedule turnovers based on guest bookings and availability by integrating with major booking platforms such as Airbnb, Booking.com, and Vrbo. The platform also provides a marketplace feature to help owners find professional cleaners in their area. Turno offers automated payments and job tracking, simplifying the process of managing cleaning services for vacation rental properties. Overall, Turno is an efficient and convenient solution that can help owners save time and streamline their cleaning management processes.
Thumbtack
Available in: All states
Prices vary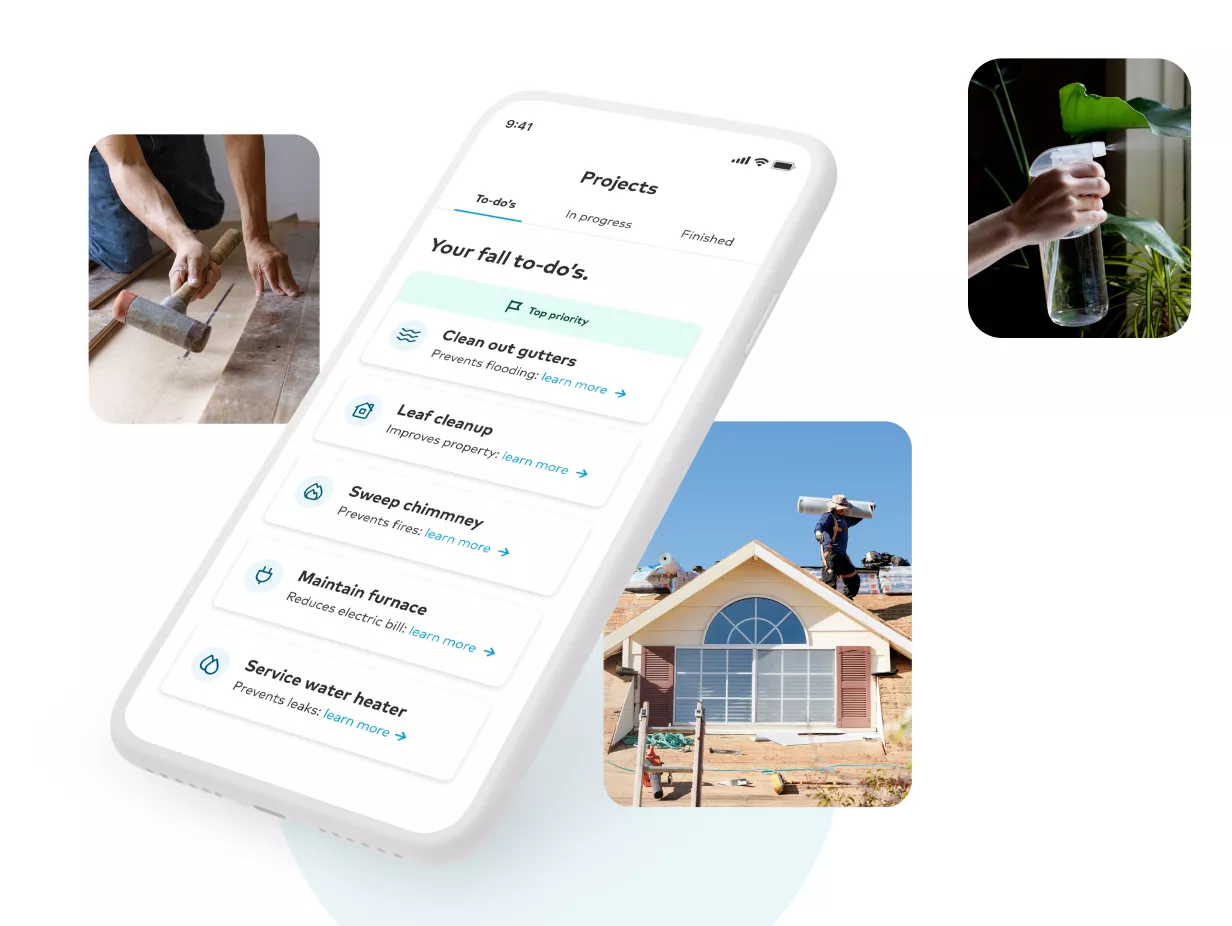 Thumbtack is an online platform that connects customers with local professionals and service providers, including cleaning service companies. While Thumbtack does not provide direct cleaning services, it offers a marketplace for customers to browse and hire local cleaning service providers. The platform allows customers to specify their cleaning needs and receive quotes from multiple cleaning companies, enabling them to compare services and prices before making a decision. Thumbtack also reviews and rates the cleaning companies listed on its platform, helping customers decide which provider to hire. Overall, Thumbtack acts as a facilitator, connecting customers with local cleaning service companies rather than providing cleaning services directly.
Doinn
Available in: Portugal, Spain, the UK, US, Italy, Australia, Singapore
Prices vary by location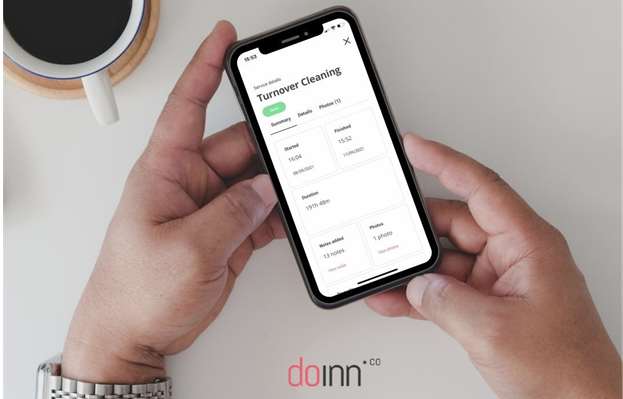 Doinn is a company that provides a platform for managing short-term rental properties. It offers a range of services, including cleaning, laundry, and key management, to property owners and managers. Doinn's platform enables users to easily book and manage these services, as well as track their progress and monitor the performance of their properties. The company aims to simplify and streamline the process of managing short-term rental properties, helping owners and managers to save time and increase their profitability. Doinn primarily operates in the vacation rental industry, serving customers around the world, including in Europe, North America, and South America.
Hosty
Available in: All around the world
Prices vary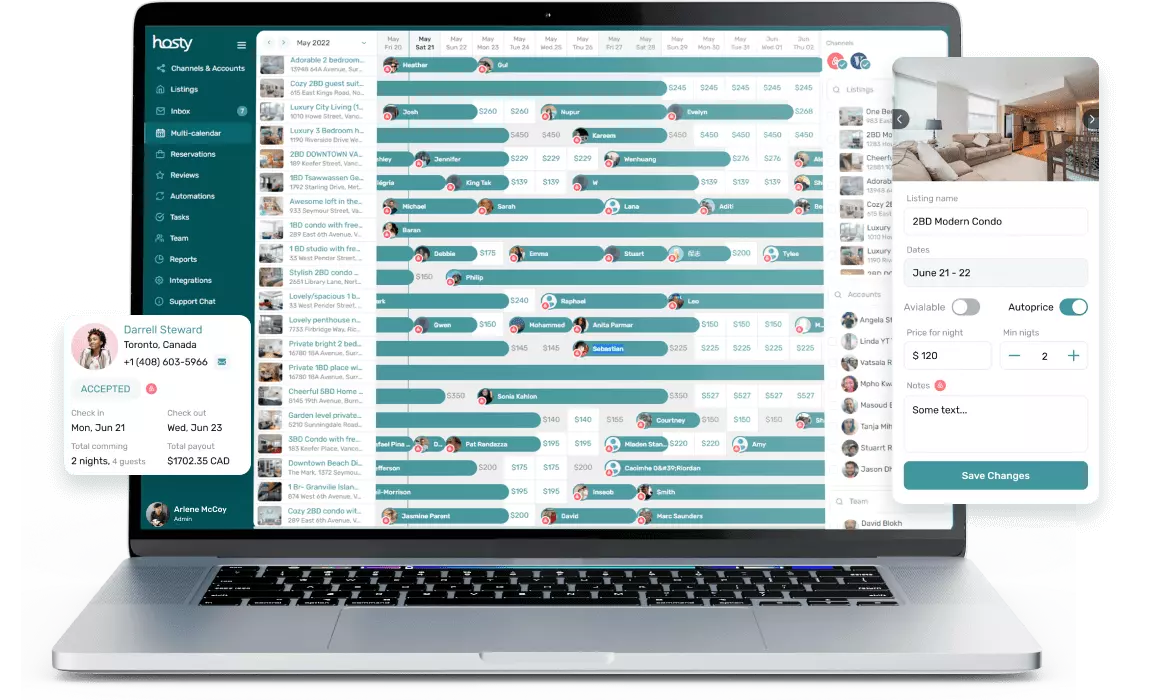 Hosty is widely recognized for providing an array of tools that are geared toward streamlining and optimizing the management of rental properties. While it may not directly provide cleaning services, one of the standout features of Hosty is its ability to facilitate the scheduling of tasks. Property managers or vacation rental owners can conveniently assign tasks to their staff or an independent cleaner through this feature.
Available in: All around the world
Prices vary
The seamless integration of this app with prominent booking platforms, including Airbnb, is a testament to its unparalleled ability to deliver a high-quality and convenient cleaning service. With its vast network of cleaning professionals, users can choose from a plethora of experts or opt to use their preferred cleaning services. Additionally, this app is designed to simplify the entire cleaning process. Users can take pictures of their cleaning needs and even benefit from the app's inspection feature, which streamlines the cleaning process and ensures that the highest level of quality is delivered.
Final Thoughts
Vacation rental cleaning services provide value to property owners. Hiring professionals ensures your rental is welcoming and safe. Writing down your expectations eliminates confusion and holds them accountable. Choose a service dedicated to high-quality cleaning with a focus on detail. Following health and safety protocols can create a safer environment. With these elements, you'll have peace of mind and more time to enjoy your rental.

-->