East Austin bars are rapidly emerging as the prime locations in the city for all types of alcohol enthusiasts to indulge in beers and craft cocktails. However, the bar scene in East Austin can be challenging. The districts are filled with exciting new bars and restaurants that may find it more difficult to choose where to spend the night than scrolling through the endless Netflix list of entertainment options. Luckily, you'll find plenty of options near Vivant's properties. East Austin is home to an impressive range of unique bars and restaurants of all shapes and sizes. Here are some highlights of each district.
Riverside
The bar and food scene in the East Riverside area of Austin is diverse and growing. The area attracts a mix of locals and students from nearby universities, making it a lively and energetic scene.
Buzzmill
This unique coffeehouse and bar has multiple food trucks and vegan-friendly options. It's known for its laid-back and rustic atmosphere, featuring wood accents and a spacious patio with picnic tables. Buzzmill is a popular spot for locals and visitors looking for a relaxed atmosphere and a diverse crowd. Best known for its homemade infused vodkas and whiskey.
Ani's Day & Night
Ani's Day & Night is a cool, cozy remodeled house turned into a coffee shop and bar. The atmosphere at Ani's bar is casual, cool, and laid-back, with comfortable seating, dim lighting, and a welcoming vibe.
Hecho En Mexico
This restaurant offers many authentic Mexican dishes, including tacos, fajitas, enchiladas, and ceviche. In addition to their food, Hecho En Mexico has an extensive drink menu that includes tequila, mezcal, margaritas, and other specialty cocktails. The atmosphere in the restaurant is lively and colorful, with vibrant decor and upbeat music.
Cidercade Austin
Cidercade is a unique bar and arcade located in the East Riverside area of Austin. The bar features a wide selection of hard ciders on tap, beer, and wine. The atmosphere in Cidercade is lively and fun, with classic arcade games and pinball machines lining the walls, providing entertainment for all ages. In addition to the drinks and games, Cidercade also offers a variety of food options, including pizza and wings. The menu is designed to be casual and easy to eat while playing games or socializing with friends.
The Jackalope South Shore
The Jackalope South Shore bar features a variety of drinks, including beer, cocktails, and shots. The environment is lively and energetic, with a large outdoor patio and a rustic dive bar feel. The bar is decorated with antlers, vintage beer signs, and other eclectic items, creating a unique and quirky atmosphere.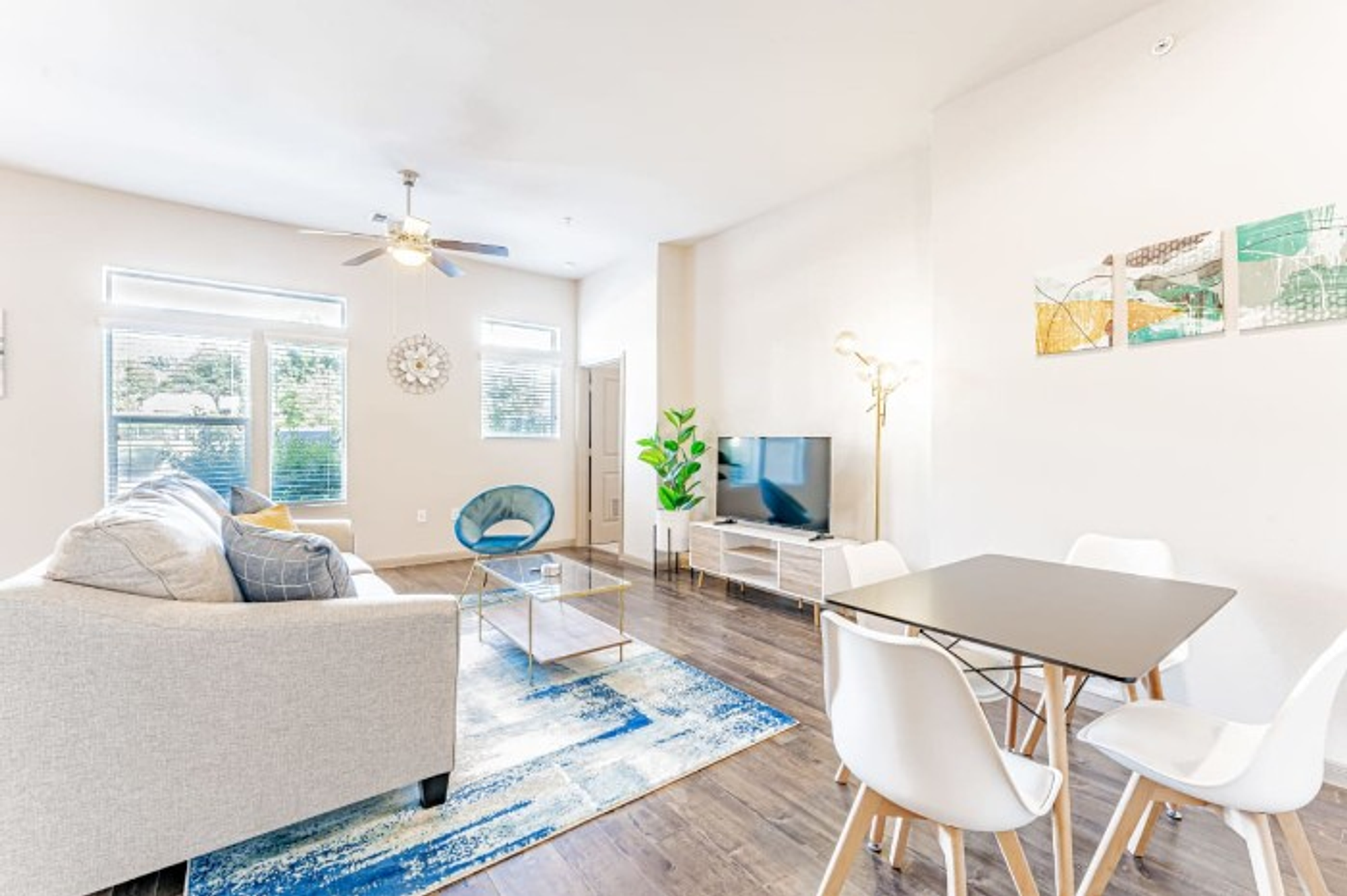 6th/7th Street
The east side of 6th and 7th street is home to many trendy cocktail bars, including some specializing in creative, handcrafted cocktails made with local ingredients. Plenty of casual dive bars and beer gardens offer a laid-back atmosphere, cheap drinks, and a great selection of local and international beers. When it comes to food, East 6th and 7th Street have a lot to offer. The area is known for its food trucks, which serve up everything from classic Tex-Mex dishes to Asian-inspired street food.
Kinda Tropical
Kinda Tropical is a vibrant and eclectic restaurant and bar. The drinks at Kinda Tropical are creative and refreshing, with a focus on tropical flavors and unique ingredients. The cocktail menu features a variety of original creations, as well as classic favorites like margaritas and mojitos. There's also a great selection of beer and wine, including many local and regional options. When it comes to food, Kinda Tropical offers a diverse and flavorful menu with a mix of international and regional influences. The menu includes small plates, sandwiches, salads, and entrees, with plenty of vegetarian and gluten-free options.
Easy Tiger – East 7th
Easy Tiger is a popular bakery, beer garden, and bar located on 7th street. The atmosphere is relaxed and inviting, with indoor and outdoor seating areas and a huge patio perfect for enjoying a meal or a drink. The drinks at Easy Tiger are a highlight, with an impressive selection of craft beers, wines, and spirits worldwide. The bar also offers a range of creative cocktails. When it comes to food, Easy Tiger is known for its delicious baked goods, including artisanal bread, pastries, and pretzels. In addition to great drinks and food, Easy Tiger also features a lively and fun atmosphere, with frequent live music performances and other events.
White horse
The White Horse is a popular honky-tonk bar. The atmosphere at the White Horse is lively and energetic, with live music performances and dancing throughout the week. The bar offers a great selection of local and regional beers and a range of whiskeys, bourbons, and other spirits. The indoor pool tables and outdoor seating areas are popular, with plenty of space to relax and socialize with friends. In addition to great drinks and music, the White Horse also features a lively and fun atmosphere, with frequent events and performances, including live country music, swing dancing, and two-stepping lessons.
Buenos aires café
The atmosphere at Buenos Aires Cafe is a cozy and intimate setting, with a warm and welcoming ambiance that invites guests to relax and savor the flavors of Argentina. The drinks at Buenos Aires Cafe are a highlight, with a great selection of Argentinean wines and cocktails. When it comes to food, Buenos Aires Cafe is known for its delicious Argentinean cuisine, with a menu that features a mix of traditional and contemporary dishes. Standout items include empanadas, grilled steaks, breakfast tacos, and the milanesa. Vegetarian and gluten-free options are also available, making it a great choice for diners with dietary restrictions.
Zilker Brewing
Tucked at the end of east 6th street, Zilker Brewing is an independent microbrewery and taproom. The atmosphere at Zilker Brewing is casual and inviting, with indoor and outdoor seating areas perfect for enjoying a cold beer or two. The drinks at Zilker Brewing are a highlight, with an impressive selection of craft beers brewed in-house. The brewery features a range of IPAs, stouts, lagers, and other styles of beer, all of the best bars which can be enjoyed in the taproom or taken home in growlers. In addition to great beer, Zilker Brewing also features a delicious food truck on-site, which serves wings, fried chicken, and sandwiches.
Shangri-La
Located east of 6th street Austin, Shangri-La is a lively dive bar that offers great drinks and entertainment. The atmosphere at Shangri-La is vibrant and inviting, with plenty of seating both inside and out. The drinks at Shangri-La are creative and unique, featuring an impressive selection of craft beers, wines, and cocktails. The dive bar also offers locally-brewed beers and several rotating taps that showcase some of the best craft beers in Austin. In addition to great drinks, Shangri-La is known for its atmosphere and weekly special events.
Lucky Duck
Lucky Duck's on East 6th offers a diverse range of day-to-night activities that cater to different tastes. They host live music in the afternoons, making it a great spot to catch up with friends or meet new people over drinks and great tunes. Lucky Duck's has something for everyone, whether you're in the mood for a classic Old Fashioned or a modern twist on a Margarita. One of their most popular drinks is the Espresso Martini, made with freshly brewed espresso, vodka, and a touch of sweetness. It's the perfect pick-me-up to enjoy during a night out with friends or after a long day at work.
Kitty Cohen's
Kitty Cohen's is a retro-inspired cocktail bar that exudes a laid-back and inviting atmosphere. The bar is decorated with vintage accents, including old-fashioned wallpaper, tassels, and colorful lights, giving it a unique charm. Their cocktail menu features a mix of classic and modern drinks. Kitty Cohen's offers a relaxing outdoor patio area with a pool, making it the perfect spot to enjoy a refreshing cocktail on a hot day. The pool area is decorated with comfortable lounge chairs, umbrellas, and tropical plants, creating a laid-back and tropical vibe.
Vixen's Wedding
Vixen's Wedding is a vibrant and eclectic restaurant that offers a unique blend of Portuguese, Goan, and Indian cuisine. The restaurant's decor is equally eclectic, with colorful murals, tiled floors, and accents. The atmosphere at Vixen's Wedding is lively and energetic, with a great vibe that perfectly complements the colorful and vibrant decor. Their drink menu features a range of creative cocktails that incorporate unique ingredients and flavors. They also offer an extensive wine and beer list that perfectly complements their flavorful dishes. The staff is friendly and attentive, and the restaurant's unique blend of flavors and dishes make it a great spot for a memorable dining experience with friends or loved ones.
Lazarus brewing
Lazarus Brewing is a popular craft brewery at the end of east 6th street. The atmosphere at Lazarus is warm, inviting, and casual, with plenty of indoor and outdoor seating options. Inside the brewery, you'll find an industrial-style interior with exposed brick walls, wooden beams, and a mix of communal and individual seating arrangements. The space is bright and airy, with large windows letting in plenty of natural light. The menu at Lazarus Brewing features a wide selection of locally brewed craft beers, ranging from classic styles like pale ales and IPAs to more unique and experimental brews like sour beers and barrel-aged stouts. Each beer is crafted with care and precision, using only the finest quality ingredients. In addition to its impressive selection of beers, Lazarus Brewing also offers a variety of tasty cocktails, wine, and non-alcoholic options, including house-made sodas and cold brew coffee.
Whistlers
The atmosphere at Whistler's is laid-back and eclectic, with an industrial-chic vibe and a mix of indoor and outdoor seating options. Whistler's menu features creative and inventive cocktails with high-quality spirits, fresh ingredients, and unique flavor combinations. The bartenders at Whistler's are known for their expertise and creativity, and they're always happy to make recommendations or craft a custom cocktail to suit your tastes. The spacious patio is surrounded by lush greenery and string lights, creating a cozy and intimate ambiance. Overall, the atmosphere at Whistler's is relaxed and unpretentious, making it a popular spot for locals. The expertly crafted cocktails, laid-back atmosphere, and spacious patio make it a great place to unwind and enjoy a night in Austin.
Hotel Vegas
Hotel Vegas is a beloved East Austin favorite music venue. It offers various live music events, showcasing local and national acts in rock and hip-hop genres. Their bar offers a wide selection of crafted cocktails and beer on tap, wine, and non-alcoholic beverages. Hotel Vegas is a great spot for grabbing drinks with friends or enjoying an evening with great music.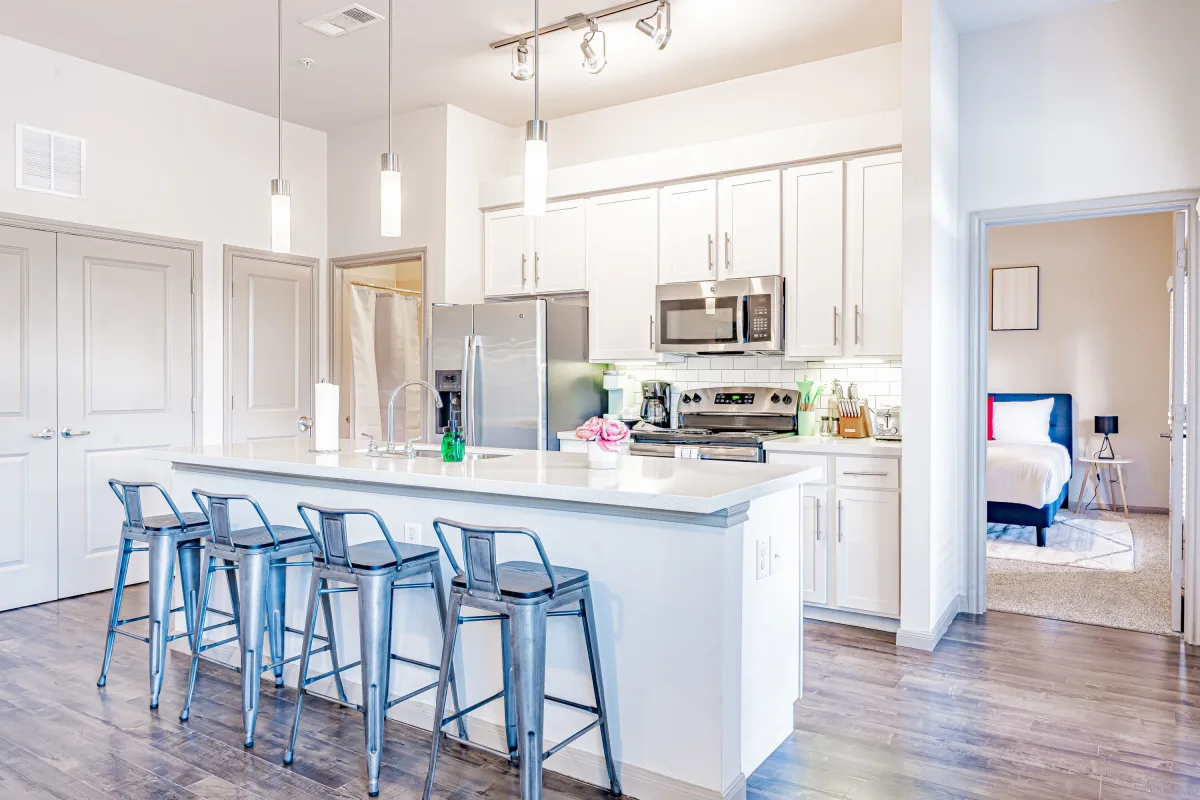 11th Street
East 11th Street in Austin, Texas, is a vibrant neighborhood that has seen a surge in new restaurants, cafes, and bars in recent years. Here are some notable food and drink establishments on East 11th Street:
Old Thousand
Old Thousand is a modern Chinese restaurant. Their menu offers a mix of traditional Chinese dishes with a modern twist, creative cocktails, and local beer options.
Paperboy
Paperboy is a casual breakfast and brunch spot. Their menu features Southern-inspired dishes made with locally sourced ingredients and various coffee and juice options. It offers a relaxed atmosphere and delicious Southern-inspired breakfast and brunch options perfect for a weekend morning or brunch.
Lucky's
Lucky's is a Mexican fusion fare-inspired restaurant with interesting dishes like a quesadilla with kimchi. On the drinks side, Lucky's has a varied drink menu of unique cocktails, frozen drinks, mocktails frozen cocktails, and shots, with creative drink options like a spicy margarita and an espresso martini with vodka or mezcal.
Vintage Bookstore and Wine Bar
This location is unique and the first of its kind in Austin. Its name is exactly what it sounds like. It's a cozy location with shelves packed with books and comfy chairs to relax while reading a book and enjoying wine. It creates a unique and relaxing atmosphere.
East Side Pies
East Side Pies is a popular pizza joint in Austin, known for their delicious thin-crust pizzas and extensive selection of beers and drinks. Along with the pizzas, East Side Pies offers a wide selection of local and regional beers on tap, wine, and cocktails. The atmosphere of East Side Pies is casual and welcoming, with a relaxed vibe that encourages customers to hang out and socialize. The decor is simple and unpretentious, focusing on showcasing local art and creating a community-oriented space.
Vivant Properties near 11th street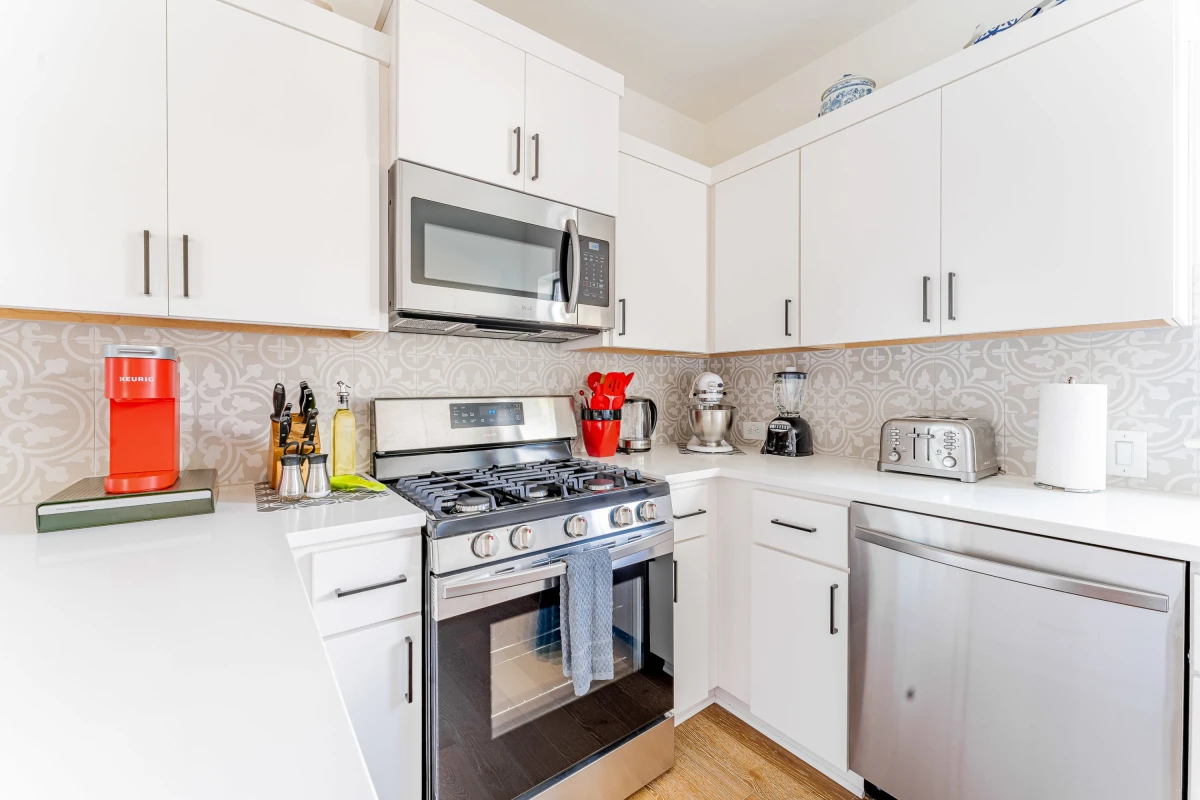 Mueller
The food and bar scene in the Mueller area is diverse, vibrant, and constantly evolving, with new restaurants and bars always opening. Whether you're in the mood for a quick bite or a leisurely meal, there is something for everyone in this exciting neighborhood.
B.D Riley's Irish Pub
The pub features a classic Irish décor with plenty of dark wood, cozy booths, and an extensive selection of Irish whiskeys and beers. The menu is packed with traditional Irish pub fares like fish and chips, shepherd's pie, and corned beef and cabbage; all served in hearty portions. The atmosphere is always friendly and lively, with regular live music and sports games on multiple TVs throughout the pub. Whether you're looking for a relaxing night out with friends or a fun spot to watch the game, B.D Riley's Irish Pub is an excellent choice for an authentic Irish pub experience.
L'oca d'Oro
L'oca d'Oro ("the golden goose") offers locally sourced and seasonal dishes inspired by Italy. Their menu features handmade pasta, bread, cheese, vinegar, and liqueurs. They also offer an extensive wine list featuring Italian and natural wines and cocktails to complement the food. Overall, L'oca d'Oro offers a unique dining experience with a focus on fresh, seasonal ingredients and modern interpretations of classic Italian dishes.
Halcyon
Coffee purveyors Halcyon serves up various specialty coffee drinks and teas. Their menu features unique twists on classic favorites like dirty chais and Vietnamese coffees. For the evening crowd, Halcyon offers craft beers, wines, and cocktails with an east-side vibe. Perfect spot to work from while enjoying a coffee, having a business lunch, or grabbing a drink with friends.
Carousel Lounge
Kicking off the east-side drinking scene since the 1980s, Carousel Lounge is known as one of the oldest bars in Austin. The Carousel Lounge offers an unforgettable experience with its circus-themed lounge. It has weekly live music, mixers for BYOL, and a selection of beer and wine. Carousel Lounge's atmosphere is lively and authentic, with the ultimate "keep Austin weird" vibe.
Knomad Bar
Knomad bar is a hole in the wall that you might miss on your way. It offers jukebox music, live music events, a small menu fusion of food, and a great beer collection. It's your old dive bar type with good vibes.
Vivant Properties in the Mueller area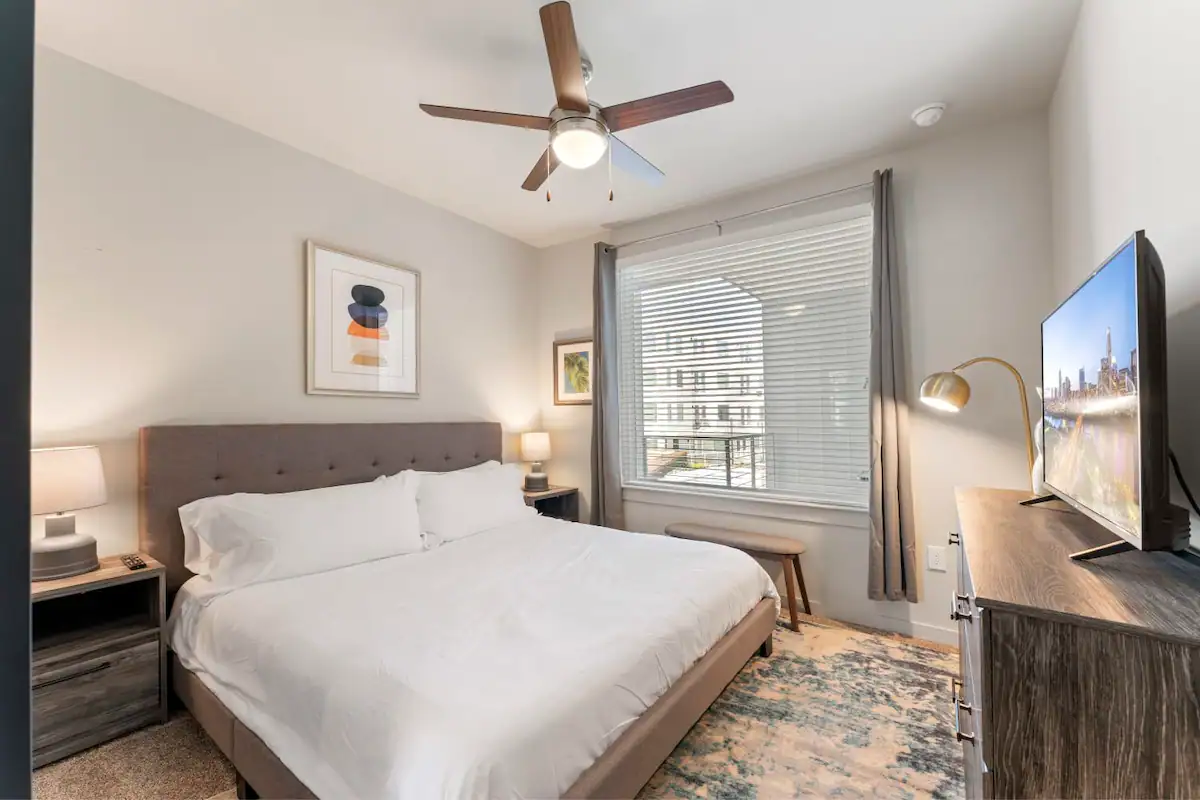 -->